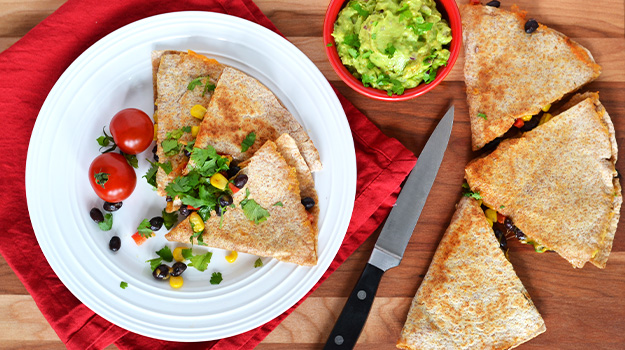 For a quick summer recipe that's easy to prepare, quesadillas are a great and nutritious choice. With black beans and cheese as sources of protein, fresh vegetables, and whole grain tortilla bread, it has all you need for a balanced meal. 
 
---
Servings: 6 tortillas
Preparation time: 5 minutes
Cooking time: 6-8 minutes per tortilla
---
INGREDIENTS
541 ml (1 can) of black beans (rinsed and dried)
1 finely diced sweet pepper (any colour)
½ red onion (finely chopped)
About 350 ml of corn (fresh or canned)
Coriander leaves if desired (finely chopped) 
6 large whole wheat tortillas
2 cups of shredded cheddar cheese
INSTRUCTIONS
In a medium bowl, mix the black beans, diced sweet pepper, red onion, corn, and finely chopped coriander leaves.
Place a tortilla in a large non-stick pan and add cheese on one half. Add the mix on the same half and fold in two. Cook over medium heat for 3 to 4 minutes on each side, or until the cheese has melted or the tortilla has browned. 
Serve warm with sour cream, guacamole or salsa.
Note: 
You can also add the mix to a salad. It's a great way to use leftovers and create nutritious meals you can easily bring to work.