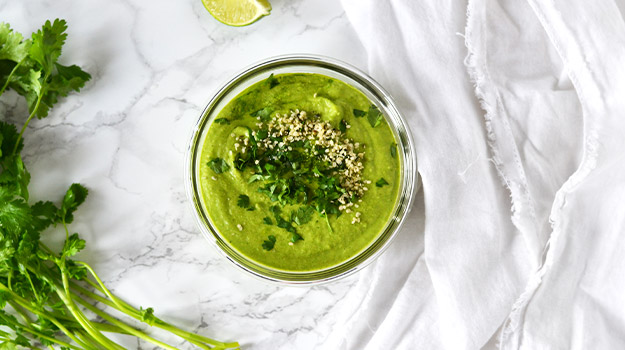 This no-bake recipe is perfect to brighten up cocktail time or add flavour to your favourite dishes. Hummus can be used either as a dip or sandwich spread. 
Discovering the garlic flower
The garlic flower comes from the cultivation of hardneck garlic, one of the four most common varieties grown in our gardens. Its flavour is more delicate than the bulb's and it is also easier to digest. 
Anti-waste tip
Reuse your vegetable tops and incorporate them to your pesto, whether it's carrot, turnip or celery leaves. 
---
Gives: about 3 cups of hummus    
Preparation time: 15 minutes
---
INGREDIENTS
Pesto
500 ml (2 cups) of coriander leaves (with stalks)
250 ml (1 cup) of vegetable tops of your choice (optional)
2 garlic flower necks
125 ml (½ cup) of extra virgin olive oil 
60 ml (¼ cup) of food yeast or grated Parmesan cheese
15 ml (2 tablespoons) of pine seeds or shelled hemp seeds
15 ml (1 tablespoon) of fresh lime juice
2.5 ml (½ teaspoon) of salt as desired
Hummus 
1 box of white kidney beans or chick peas (540 ml, rinsed and drained)
60 ml (¼ cup) of tahini (sesame butter)
1 jalapeno pepper (optional) 
INSTRUCTIONS
Put all pesto ingredients in the food processor and blend until texture is homogeneous. Add oil if needed. 
Add the white kidney beans, tahini and jalapeno pepper (if desired) in the food processor. Blend again. Add water if needed to adjust consistency.  
Eat with pita bread slices, crackers or baguette bread croutons. Use it as a dip or sandwich spread.
Notes: 
If you do not have a food processor, it's also possible to use a blending attachment or a blender. 
You can replace the lime with half a lemon. 
If you wish to keep some pesto for later, double the recipe and keep the extra half of the blend before incorporating the hummus ingredients.
Hummus and pesto can be kept in the refrigerator for a week and can also be frozen.