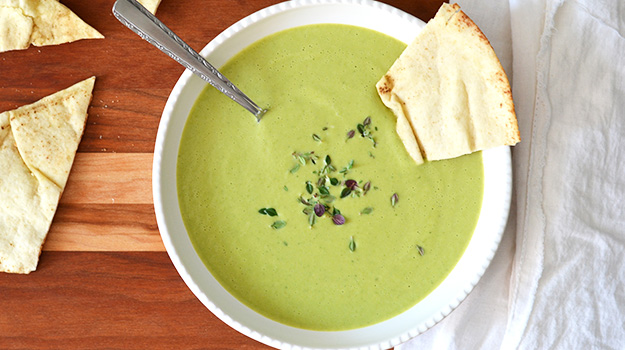 Zucchinis are one of the most versatile vegetables in the garden. They can be grilled, stuffed, integrated to bread and muffin recipes, or turned into delicious soups. For this recipe, we will show you how to prepare a chilled green pea and zucchini soup you're sure to love. 
When you have an excess of zucchinis, you can keep some soup in the freezer and warm it up come fall. Zucchinis are rich in potassium and beta-carotene. 
---
Servings: 4 to 6 
Preparation time: 5 minutes
Cooking time: 20 minutes
---
INGREDIENTS
1 white onion (chopped)
1 garlic clove
2 green or yellow zucchinis
500 ml (2 cups) of peas
750 ml (3 cups) of vegetable broth 
60 ml (¼ cup) of Belsoy soy cream or fresh cream (15%)
5 ml (1 teaspoon) of lime juice
Fresh lemon thyme or lemon basil 
Pepper as desired
INSTRUCTIONS
In a medium pan, brown the onion in olive oil. Add the garlic and zucchinis and keep cooking over medium heat until the zucchinis start to brown. 
Add the peas and broth to cover the vegetables. You may not need all of the broth depending on the size of your zucchinis. 
Bring to a boil, cover and leave to simmer over low heat for 15 minutes. 
Purée until smooth using a blender, and then refrigerate if you want to serve cold
Notes: 
The flavour of lemon thyme or lemon basil is a perfect match for this chilled soup. You can also use regular thyme or basil. The taste will be different, but just as good.
This soup can be eaten hot, warm or cold. Prepare and refrigerate your soup in advance if you want to serve it without delay. 
To make this soup a complete, balanced meal, serve it with grilled tortilla bread and a source of proteins like grilled chicken.