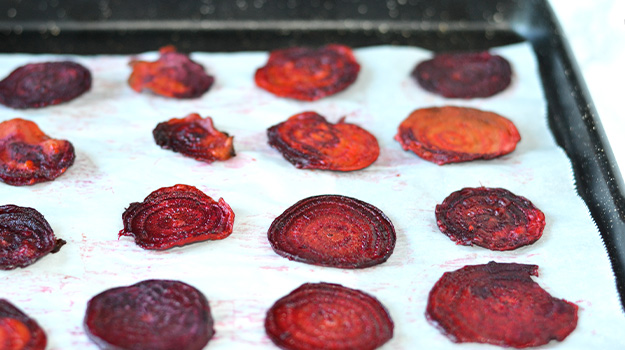 Beets can be eaten raw, cooked, marinated and even lacto-fermented. For this recipe, we propose preparing a delicious, healthy snack: oven-baked beet chips. 
Beets are rich in folate and manganese. The more colourful they are, the higher the antioxidant content. The best way to cook them to preserve nutrients is in the oven.
---
Servings: 4
Preparation time: 5 minutes
Cooking time: 20 minutes
---
INGREDIENTS
2 large beets (peeled)
15 ml (1 tablespoon) of vegetable oil
1 pinch of salt
INSTRUCTIONS
Pre-heat the oven at 350 °F and prepare 2 baking trays covered with baking paper. 
With a slicer or knife, cut the beets in thin slices.
In a large bowl, mix the beets with the oil and salt using your hands. 
Fill the baking trays with the slices.
Bake for 20-25 minutes, turning them halfway through baking. Bake longer if needed.
Note: Cooking time can vary depending on the thickness of your slices. Beet slices will get smaller when cooked.