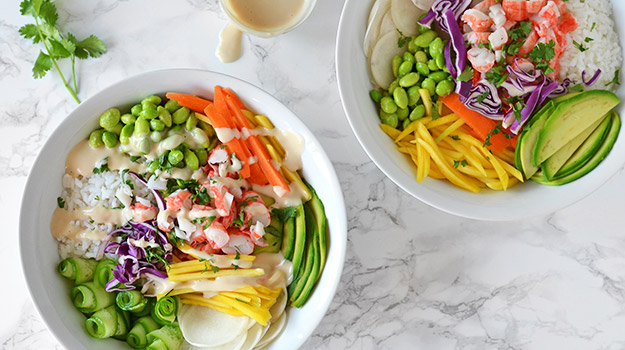 When temperatures rise, we like preparing easy, refreshing meals. And it's even better when we can use vegetables from our own garden. Poke and chirashi are simply perfect for that.
Poke is an hawaiian cuisine specialty, while chirashi is a Japanese dish. Both contain grains, vegetables and fish. Calrose rice, a medium grain sticky rice, is typically used for chirashi. In both cases, your bowl can be personalized depending on your preferences. 
Health tip 
For mayonnaise-based dips and sauces, you can replace half the mayonnaise with Greek yogurt. This allows to reduce the fat content of your recipes and it provides a little proteins as well.
---
Servings: 2 large bowls
Preparation time: 20 minutes
Cooking time: 10 minutes
---
INGREDIENTS
Rice
250 ml (1 cup) of calrose rice (rinsed and drained)
375 ml (1 ½ cup) of water
15 ml (1 tablespoon) of rice vinegar
Sesame mayonnaise
15 ml (1 tablespoon) of mayonnaise
15 ml (1 tablespoon) of plain Greek yogurt
5 ml (1 teaspoon) of toasted sesame oil
5 ml (1 teaspoon) of soy sauce oil
Sriracha sauce or another hot sauce if desired
Topping suggestions 
Vegetables 
Daikon radishes or Japanese turnip
Carrots
Cucumber
Avocado
Mango
Red cabbage
Proteins
Pink shrimp
Salmon tartare
Pollock
Edamames
INSTRUCTIONS
Cook the rice following the instructions on the packaging. When finished, add the rice vinegar and stir lightly. Refrigerate the rice while preparing the vegetables or prepare the rice in advance so it has time to cool down completely before it's time to serve.
Prepare the vegetables based on your preferences (slices, juliennes, dice, etc.).  
In a small bowl, mix the sesame mayonnaise ingredients.
Preparation
Add rice in the two large bowls and press lightly.
Top with your choice of vegetables and add the sauce.
 Add fresh herbs like coriander or chives at the time of serving. You can also sprinkle sesame seeds if you like. 
Note
Calrose rice can be replaced with quinoa or another type of grain.
This recipe is a complete and balanced meal as it contains rice, vegetables and at least one source of proteins.
Edamames must be cooked 5 minutes in boiling water. Add a little wasabi or mayonnaise if desired.