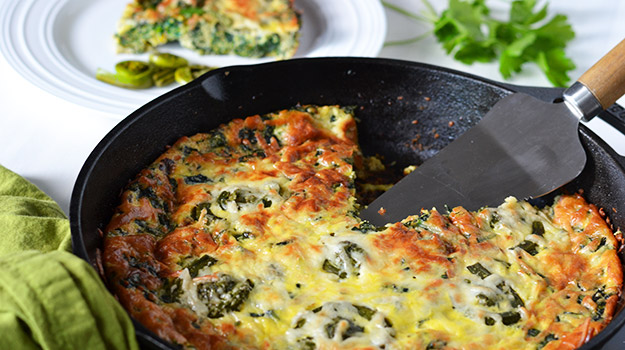 This spring recipe gives us the opportunity to discover an odd vegetable: the fiddlehead. It's a great source of manganese and it contains lots of vitamins A and C.
How to prepare fiddleheads
To safely enjoy fiddleheads and avoid all risks of food poisoning, they must be prepared properly. Boiling them for about 10 minutes is a crucial step to eliminate the toxin they contain. You must also discard those that have uncoiled as they are no longer edible. You can remove the brown tips or scales if there are any. They can then be added to your favourite dishes or cooked in a little butter in a pan.
Did you know that contrary to popular belief, spinach aren't a good source of iron? Their iron content is actually less than 1 mg for 250 ml of fresh spinach. This means a wowan would have to eat 40 cups to meet her daily needs*.
---
Servings: 4-6
Preparation time: 8 minutes
Cooking time: 40 minutes
---
INGREDIENTS
250 ml (1 cup) of fiddleheads (washed)
1 finely chopped onion
1 minced garlic clove
5 ml (1 teaspoon) of butter
1 L (4 cups) of fresh spinach (washed and dried)
6 large eggs
125 ml (½ cup) of milk
10 ml (2 teaspoons) of corn starch
250 ml (1 cup) of Parmesan cheese or shredded cheddar cheese
125 ml (½ cup) of mozzarella cheese
INSTRUCTIONS
Preheat the oven to 350 °F, with the rack in the centre. 
In a medium pan filled with water, boil the fiddleheads for about 10 minutes. Drain and immerse in cold water. Drain again and put aside.
In the meantime, in a large pan, brown the onion and garlic in a little butter over medium heat. Add the spinach and cover until cooked.
In a medium bowl, beat the eggs with the milk and corn starch. Add the spinach, Parmesan cheese and fiddleheads, and stir lightly. 
Pour in a pie pan or 8-inch-wide ovenproof pan (oil pan first). If wanted, you can add mozzarella cheese on the surface. 
Cook the frittata in the oven for about 30 minutes or until the centre is well cooked and the cheese is golden brown. 
Add herbs from your veggie garden before serving, such as thyme, oregano or parsley. 
Side dish ideas: garlic bread or Caesar salad with homemade croutons. 
This recipe contains all the ingredients for a balanced meal, that is, vegetables, a source of proteins and whole grains.
Fact sheet: Fiddleheads. MAPAQ, Government of Quebec.
https://www.mapaq.gouv.qc.ca/fr/Publications/FicheInfo-Crossesdefougere.pdf
Canadian Nutrient File (CNF).
*Considering spinach as the sole source of daily iron. Based on the needs in non-heme iron (sourced from plants) of a woman aged between 19 and 50 and an iron content of 0.86 mg for 250 ml (32 g) of fresh spinach.