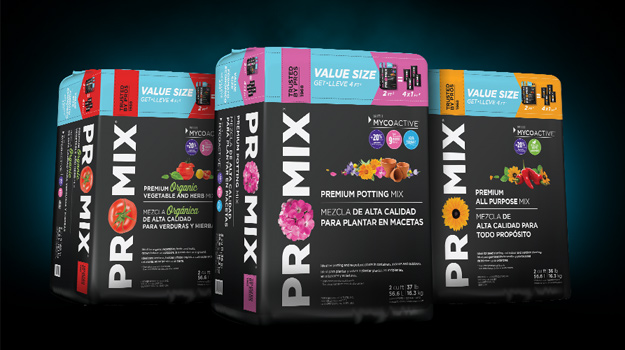 The value sizes offered include PRO-MIX PREMIUM POTTING MIX, PRO-MIX PREMIUM ALL PURPOSE MIX and PRO-MIX PREMIUM ORGANIC VEGETABLE AND HERB MIX.
VALUE SIZES
We took inspiration from the sizes offered in the professional market to give you more for your money, these 2 cubic feet bales expand to 4 cubic feet (112 L)!
EXPANDS
Once you expand it, you get twice the initial volume. A simple and clever way to save money! Those products suit several plant species and increase nutrient intake for your plants.
ORGANIC FERTILIZERS
Contain a controlled-release fertilizer that feeds plants for up to 9 months. Specially formulated for a wide variety of plants, including flowers, vegetables and herbs.
20% BIGGER PLANTS, GUARANTEED
MYCOACTIVE, a growth stimulant present in all our soils, benefits the root system of the plant by promoting the absorption of water and nutrients, for vigorous growth and healthy plants.
ORGANIC GROWING
PRO-MIX PREMIUM ORGANIC VEGETABLE AND HERB MIX is designed with 100% natural ingredients. Made of sphagnum peat moss, humus and compost, it is OMRI-listed for organic growing.