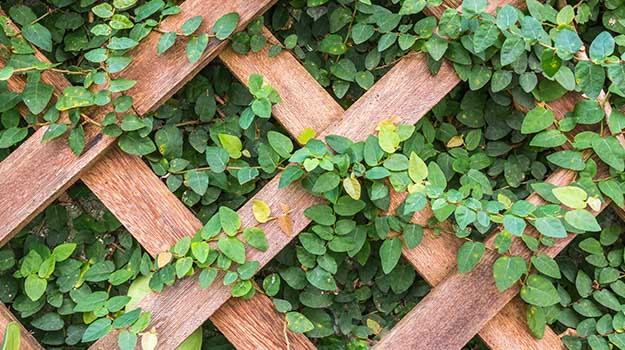 When it comes to charm and elegance in the garden, there's nothing quite like a lush vine climbing gracefully over a trellis. A trellised plant, which provides an appearance of height by drawing the eye upward, requires relatively little growing space.
Most provide shade fairly quickly. A trellis can also be used to create a privacy screen or camouflage unsightly objects such as recycling bins, air conditioner units or compost heaps.
Selecting a Plant for your Trellis
Gardeners have a nearly endless selection of trellis-friendly plants from which to choose. When making your choice, keep in mind that perennial plants come back every year, while annuals bloom from spring until the first frost.
To avoid unwanted surprises down the road, determine your growing zone, and then make sure the plant falls within that zone. Here are a few suggestions to get you started.
Perennial Evergreen Vines
Carolina jessamine (Gelsemium sempervirens) is a lush vine with fine textured, shiny foliage. In spring, Carolina jessamine bursts forth with golden yellow flowers. This easy-to-grow plant prefers sun but tolerates partial shade.

English ivy (Hedera helix) is a rambunctious plant that tends to be highly invasive in certain climates, particularly the Pacific Northwest. If the plant's rampant growth habits aren't a problem in your area, you'll love English ivy for its lush, evergreen foliage and its ability to climb vertical surface like a superhero.

Confederate jasmine (Trachelospermum jasminoides) produces enough sweetly scented, creamy white flowers to perfume your entire garden every spring. Plant confederate jasmine in full sun or partial shade, then sit back and watch the butterflies and hummingbirds.

Cross vine (Bignonia capreolata) decorates the garden with bright, reddish-orange blooms. Although cross vine tolerates shade, it produces more blooms in full sunlight.
Deciduous Perennial Vines 
Climbing hydrangea (Hydrangea anomala) is an old-fashioned, shade-tolerant plant prized for its shiny, heart-shaped leaves and clusters of showy white flowers. Evergreen varieties are also available. 
American wisteria (Wisteria frutescens) takes time to establish, but then grows like a champ. Plant this graceful vine on a trellis and enjoy the fragrant, pale purple flowers for many years to come. 

Passionflower (Passiflora incarnata) is also known as maypop. Whatever you call it, you'll love the purple and white flowers and sweet fruit. Passionflower is perennial in the south, but makes a delightful annual in cooler climes. 

Clematis – (Clematis) is available in many different types, and all produce an abundance of large, colorful blooms. Plant clematis on a trellis where the base of the plant is shaded but the vine gets plenty of sunlight.
Easy Annuals for Trellises 
Sweet pea (Lathyrus odoratus) produces an abundance of fragrant blooms in spring. Locate this old-fashioned charmer in full sunlight. 
Mandevilla (Mandevilla) is valued for its leathery, dark green foliage and showy trumpet shaped blooms. An annual in most climates, this low-maintenance plant is perennial in zones 9 and 10. 
Moon vine (Ipomoea alba) blooms from summer until the first frost. The showy white flowers open in late afternoon, and then bloom throughout most of the night. Moon vine is annual in all but the warmest climates.

Nasturtiums (Tropaeolum) are amazingly easy to grow, making them a winner for beginner gardeners. This sun-loving annual displays bright green, rounded leaves and masses of intensely colored flowers all summer long.