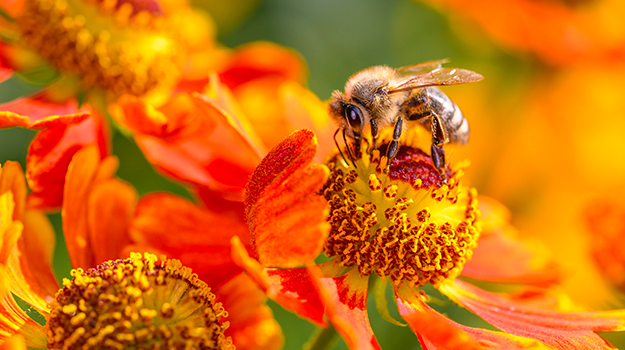 Some seasons are tougher for pollinators as there are fewer flowers. This awareness gave rise to the No Mow May movement, which encourages people to avoid mowing their lawn in early spring to let clovers, dandelions and other plants develop. 
Actually, despite the presence of several well-maintained gardens, parks and green spaces, insects tend to prefer indigenous plants over those introduced over time. Indigenous plants are trees, shrubs, perennials and annuals that are native to the area. They are well adapted to their environment and promote local biodiversity. Their nectar is more nourishing and they provide shelter to indigenous pollinators. 
If you can't – or don't want to – limit yourself to indigenous plants in your garden, it's easy to integrate them into flower beds. With flowering periods spreading over the whole season, they help preserve the fragile balance of our ecosystems. Planting them means helping beneficial insects survive.
How to attract pollinating insects?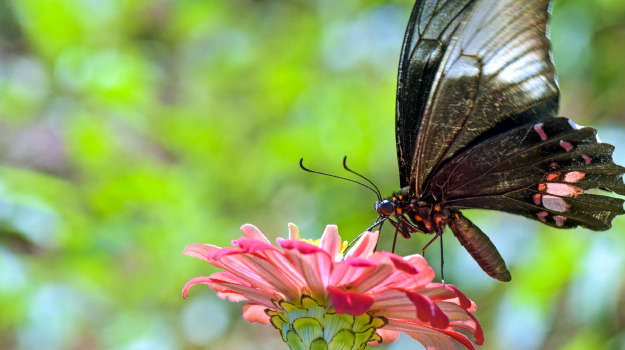 Grow plants that produce nectar which butterflies and pollinators love.
Plant a wide variety of plants that bloom at different times during the season.
Try indigenous species that produce a lot of nectar and pollen.
If possible, avoid double or triple flowers as they often produce less pollen and nectar. Their nectar is also less accessible.
If you're growing vegetables on your balcony, attract pollinators with a few potted flowers.
Let your herbs bloom once in a while… the flowers are pretty and insects love them.
Choose organic fertilizers and environment friendly products.
What flowers attract pollinators?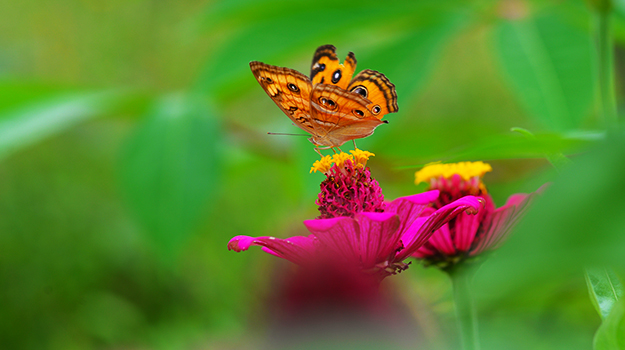 It's practically impossible to make an exhaustive list of all the perennials and annuals that attract pollinators, as there are too many. Here are a few varieties that are especially appreciated.
Perennials:
Common yarrow
Common yarrow blooms profusely and although it multiplies easily, it is not considered invasive. Its flowers are perfect for structuring a flower bed or a bouquet of cut flowers.
New England aster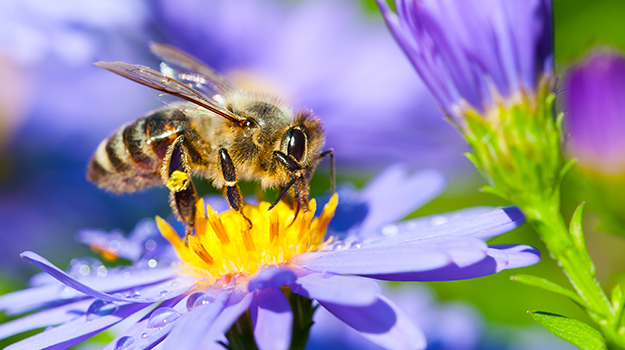 Highly important to bees and butterflies, asters bloom abundantly from August to October. The indigenous varieties are mauve, lilac or white, but there are also purple or pink cultivars. As the plant tends to thin out at the base, it is integrated into a flower bed rather than used on its own. The small varieties barely reach 30 cm in height, while the large ones can be over 1.5 m tall.
Milkweed 
You'd like to attract butterflies and hummingbirds? Opt for this large native perennial with orange or purplish flowers. The monarch, an endangered migratory butterfly in Canada, depends on this plant for its survival.
Columbine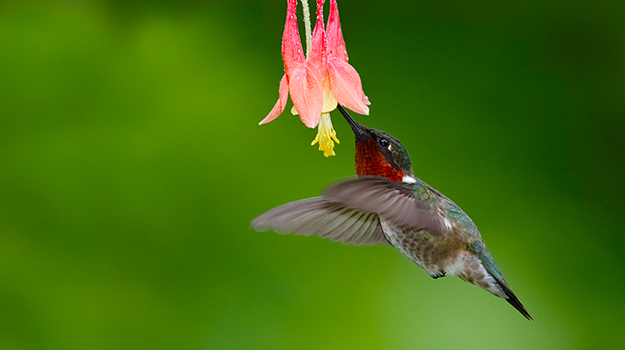 Indigenous to Quebec, Canada columbine has two-tone red and yellow flowers. Other varieties, also appreciated by bees and hummingbirds, offer spectacular and varied colour combinations. Columbine reseeds itself easily (without ever becoming invasive) and the colours of the new plants remain a mystery until they bloom! 
Goldenrod 
As a threatened species in Quebec, goldenrod has been protected since 1995. Well adapted to different soils, it is perfect for naturalizing a large area, creating a flowery meadow or solidifying a bank. 
Coreopsis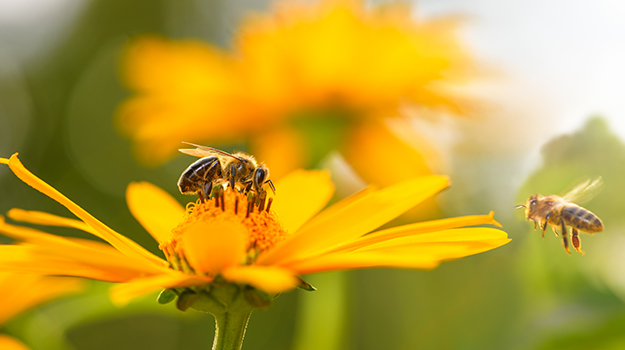 Perennial or annual, coreopsis blooms abundantly in the sun. Easy to grow, this indigenous plant is yellow or yellow and purple, but new cultivars offer beautiful variations that are worth exploring. 
Coneflower 
This is the famous yellow daisy. Both heat- and drought-tolerant, it blooms for a long time, regardless of the conditions.
Sage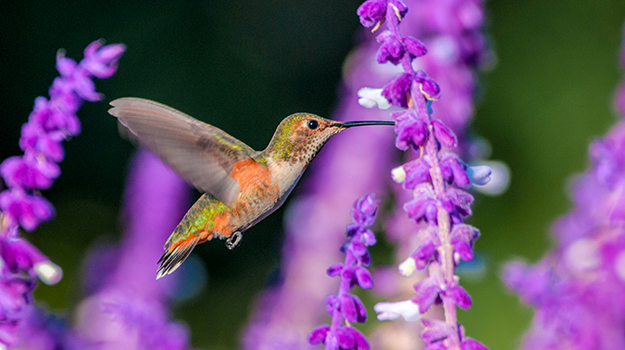 There are more than 900 species of sage in the form of herbs, shrubs or perennials. We love the silvery foliage and long blue spikes of Russian sage, a shrub that resembles lavender without being as capricious. We also like the purple, fuchsia or white flowers of common sage, as well as the variegated foliage of golden sage.
Joe-pye weed
This plant produces purple-pink flowers from mid-summer through fall. It's sure to attract pollinators and butterflies with its sweet nectar.
Other perennials to opt for: purple coneflower with its purple, white, orangy or ruby ​​red blooms, the lilac or white spikes of the liatris (nicknamed Kansas gayfeather), and the must-grow autumn stonecrop, which blooms until the first frosts.
Annuals:
Nasturtium
Nasturtiums are easy to grow as they require little care. They add colour to your garden and pollinators just love their flowers.
Cosmos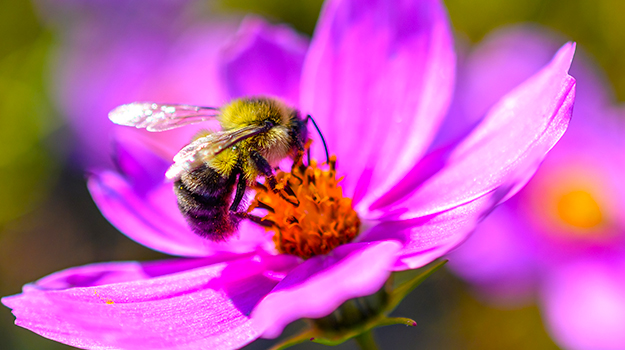 The pink, crimson or white blooms of cosmos dance in the wind and can be used to make beautiful bouquets. Flowering extends from the end of July to the first frosts.
Lantana
Admired for the length of their blooming period, lantana flowers can be treated as annuals or perennials, depending on your region and the species being grown.
Marigold
Marigolds are versatile annuals that are easy to maintain and add a touch of colour where you need it.
Zinnia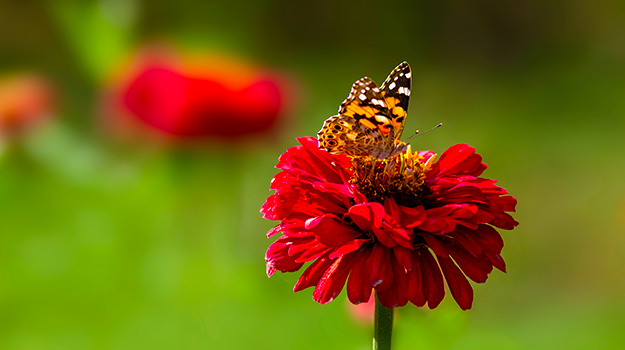 Zinnias are colourful flowers that last a long time. They are perfect to add life to your garden.
 
Sunflower
Sunflower is one of the easiest plants to grow. Offered in various heights and colours, bees won't be able to resist it.
Which tree is the most melliferous?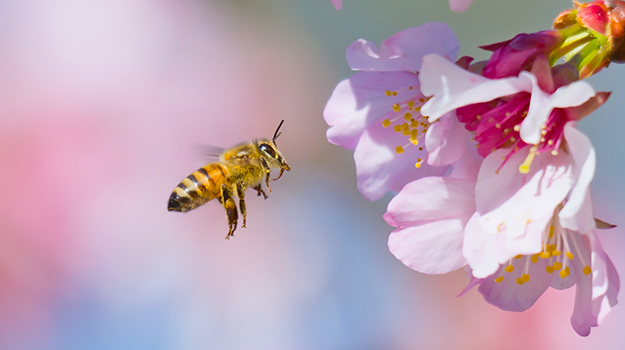 Some indigenous trees and shrubs also help pollinators. Oaks, for instance, play an important role in their survival as they serve as shelter for their larvae.
Many trees and shrubs are also among the first plants to bloom in the spring. Whether their blooming is spectacular or not, they provide pollen and nectar even before annuals make their appearance in the garden. 
Here is a selection of trees and shrubs that pollinators love, some of which are indigenous. They easily adapt to urban environments, require little care and are available in most garden centres. 
Canadian serviceberry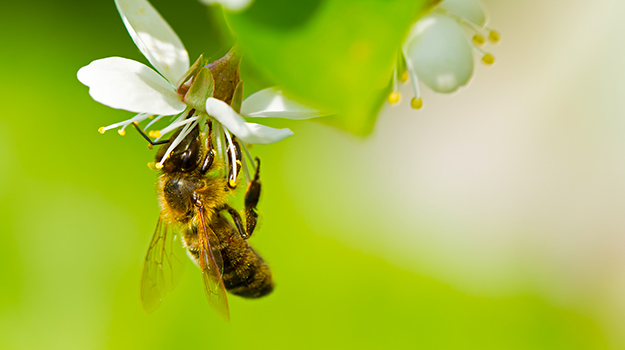 Although short-lived, its spectacular spring blooming begins before the leaves appear. Its purple fruits, once called small pears by the First Nations, are edible and attract birds. This small tree or large shrub is almost as dazzling late in the season, as its leaves take on different orange hues.
Dogwood
We love its variegated foliage and its white blooms that last from May to June. Dogwood is easily integrated into the garden. It thrives in both sun and shade and has no preference for soil type. In the fall, its fruits delight birds while its leaves turn orange and then purplish mauve. Finally, its red or yellow stems are an unparalleled attraction in snowy landscapes.
Arrowwood 
It is a small tree or large shrub that bears white flowers in the spring. Popular with pollinators, it also feeds birds and attracts butterflies. 
Golden currant
Golden currant bears golden yellow flowers whose vanilla scent attracts bees, butterflies and hummingbirds. It is very hardy and even tolerates the driest conditions. Its fruits can be used to make jelly, provided birds, small mammals and… bears have not eaten them all!
Elder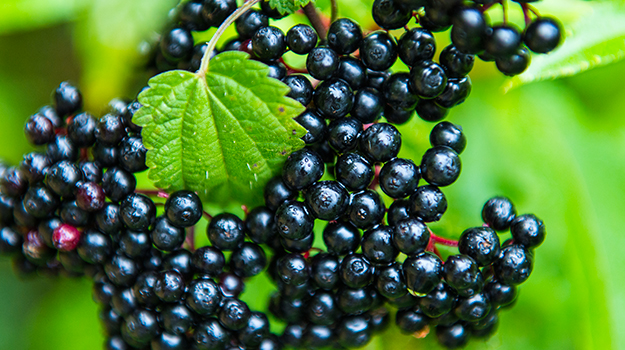 Elder is an early bloomer. Its fruits often appear before the other spring shrubs even bloom. Several insects appreciate its nutrient-rich nectar and pollen. You can make a delicious syrup and juice (like the one sold at IKEA) from its fruits. Note that some species with golden or black foliage may be less resistant than the indigenous species, but their beauty is well worth the risk!
Other trees and shrubs appreciated by pollinators: the butterfly bush (buddleia), the spectacular locust tree, the mountain ash with its pretty clusters of orangy fruits in the fall, the pussy willow, which sometimes blooms before all the snow has melted, and the common chokecherry, an indigenous tree that's harder to find but which can be replaced by a Schubert chokecherry.
Herbs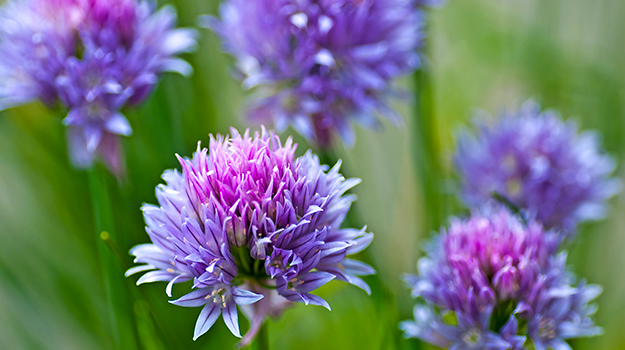 Finally, here are herbs pollinators are attracted to: dill, chives, coriander, fennel, lavender, lemon balm, mint, oregano, parsley, sage and thyme. They can be grown in pots, in the yard or in the veggie garden. Let them bloom from time to time to the great joy of insects!
Tips to choose which plants to use to attract pollinators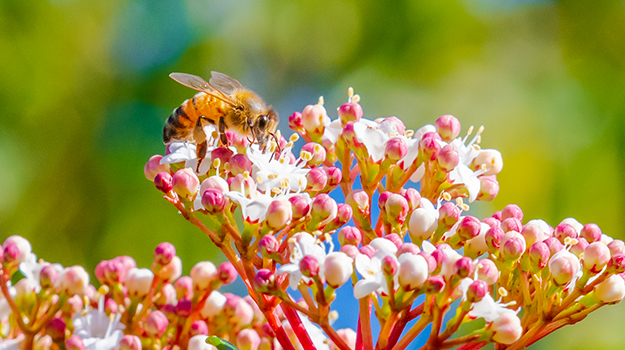 If you live in a more northern region, where the warm weather doesn't last as long, opt for plants that flower abundantly early in the season. Those who benefit from a longer summer have more options and can attract pollinators over a longer period.
A mix of annuals and perennials, indigenous or not, will make your garden very attractive. Almost all flowering plants attract one pollinator or another. Simply make sure they are adapted to your hardiness zone.