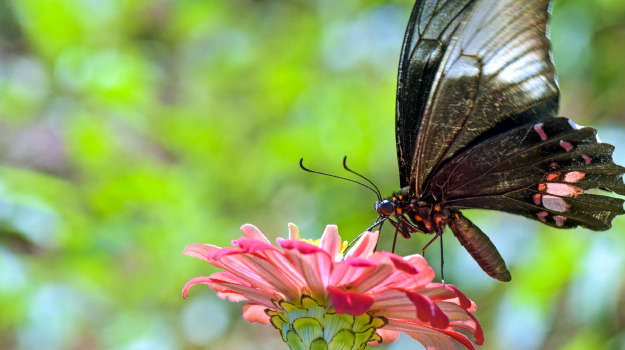 Let's face it. Without bees and other pollinators, we would have no food, our air would be toxic and our world would lack much of its natural beauty. That being said, attracting pollinating insects to our gardens is crucial because it enhances the health of plants and the entire landscape.
There are 10 special plants that will encourage pollinators. Choose the varieties that will do well in your zone and fit into your landscape to get the garden buzzing.
It would be nearly impossible to list all pollinator attracting plants, and keeping it down to just 10 plants that draw pollinators is difficult enough – but here are our favorites:
Aster
This late-blooming flower, as well as goldenrod or cup plant, will provide pollinators with pollen and nectar in the fall. 
Lantana
Admired for their extended bloom time, lantana flowers can be treated as annual or perennials depending on your region and type grown.
Zinnia
Colorful and long lasting, zinnia plants are great for adding bright color and bringing in those pollinators.
Marigold
Marigolds are versatile, easy to care for annuals that can add a pop of color just where you need it while inviting pollinators to the area.
Nasturtium
Easy to grow and thriving on neglect, nasturtium plants are great for adding not only color to your garden but pollinating insects enjoy their blooms too.
Joe Pye Weed
Producing pale pink-purple flowers from midsummer through fall, this plant is a must have for pollinators, attracting butterflies with its sweet nectar.
Tickseed
Tickseed (Coreopsis) flowers may be annual or perennial and come in a variety of heights. This native wildflower plant is commonly visited by pollinators.
Bee Balm
This perennial very attractive to bees, butterflies and hummingbirds, which are drawn to the colorful blooms in shades of red, pink, purple and white.
Black Eyed Susan
Both heat and drought tolerant, the cheery blooms of black eyed susan attract a number of butterflies, bees and other pollinators to the garden.
Sunflower
Sunflowers are one of the easiest plants to grow in gardens and come in a dizzying array of sizes and colors. As a bonus, the bees love them.
Tips on Choosing Pollinator Attractive Plants:
For those of us that live in shorter season northern regions, we need plants that are bursting with flowers earlier in the season. The lucky gardeners in long season regions will have quite a few more flowering plants from which to choose and can use them for much of the year to attract pollinators.
A mixture of native and purchased annual and perennial plants adds interest to the garden. Almost any flowering plant is attractive to some sort of pollinator, but it should be hardy in your zone.