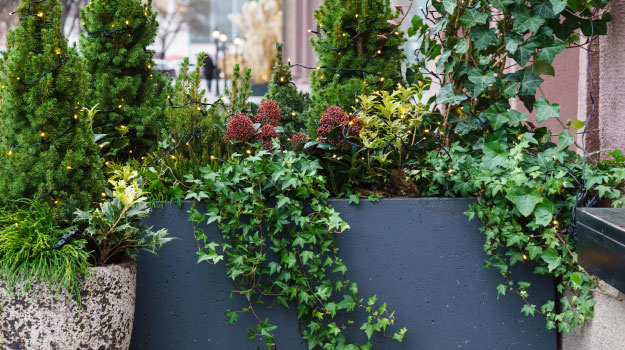 A winter window box may sound like an impossible notion, especially if you live where temperatures routinely plummet into the freezing zone from fall until spring. Believe it or not, it's possible to have a colorful window box in nearly every climate.
Here's how:
Choose a window box carefully and ensure the box is weather-resistant. Be sure to drill holes in the bottom of the box if it doesn't already have drainage holes; most plants rot quickly if the container doesn't drain.
Plant the box in autumn to give the roots time to establish before the cold of winter makes an appearance.
Fill the box with a good quality commercial potting mix. Never use garden soil, which becomes compacted and smothers the roots.
Read nursery tags carefully to be sure plants are suitable for your climate. To be safe, choose plants that tolerate temperatures a couple of zones lower than your regular zone.
Plants for Winter Window Boxes:
Pansies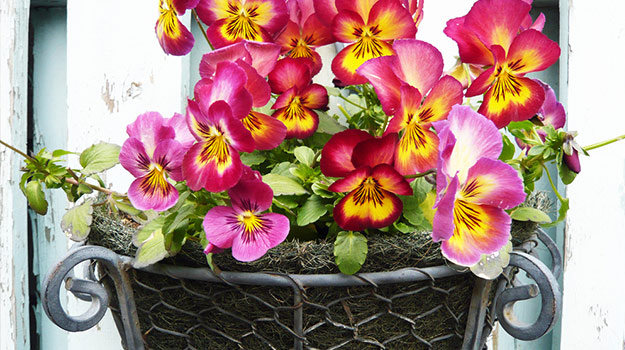 Pansies are old favorites that show their happy faces in cold weather. In fact, the rugged little plants perform best in temperatures between 40 and 60 F. (4-16 C.), but they probably won't flower in cooler temps.
English ivy (Hedera helix)
English ivy (Hedera helix) camouflages hard edges of the window box as the shiny evergreen foliage trails gracefully over the side. English ivy tolerates winters as low as -20 F (-29 C.), or possibly even cooler with mulch. Note: English ivy is a noxious weed in some areas, including the Pacific Northwest. If invasiveness is a problem in your area, be sure the plant is safely contained in a window box or other secure container.
Norway spruce (Picea abies spp.) and creeping juniper (Juniperus horizontalis)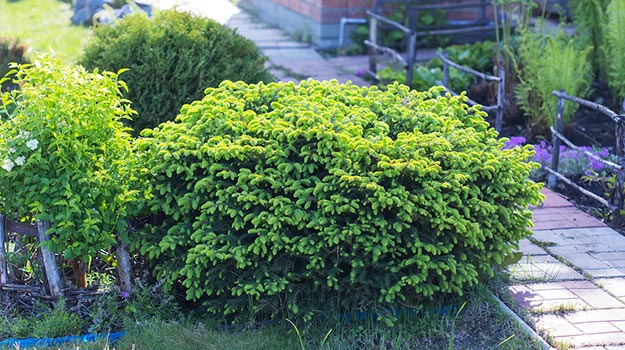 Cold-tolerant evergreens worth growing in a window box include Norway spruce (Picea abies spp.) and creeping juniper (Juniperus horizontalis). Transplant evergreen shrubs into the ground if they outgrow the window box.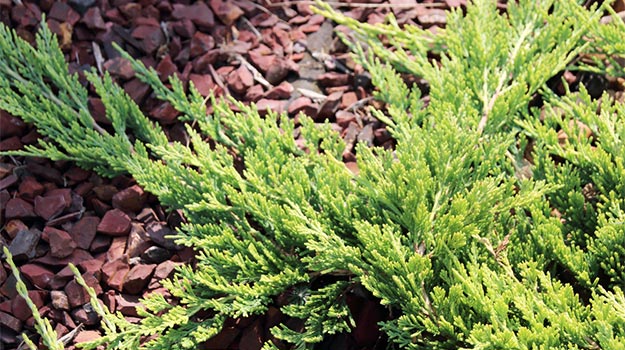 Poke a few flowering bulbs into the potting mix. Snowdrops will push their way through snow in late winter, while grape hyacinth and paperwhites flower in early spring.
If your climate is very cold, you can't go wrong with flowering cabbage or kale. These members of the Brassica family are amazingly tough; freezing weather actually brings out the bright tones of purple, pink, red and white.
If it's simply too cold in your climate, you can always decorate a window box with evergreen boughs, pinecones and sprigs of holly. Fill the box with blooming plants later.