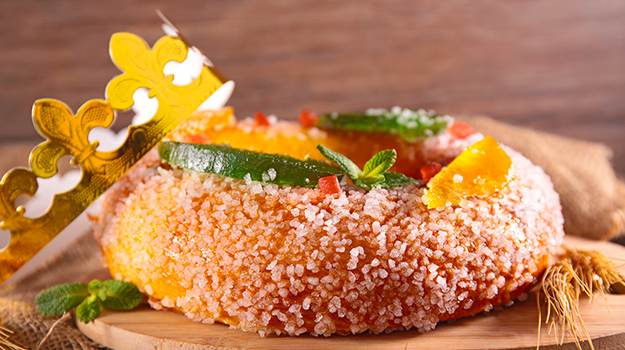 The new year has begun, which means it'll soon be Epiphany, with its crown-shaped cake that could make you king for one day. Scented with orange blossom, it is decorated with candied fruit, pearlized sugar and, why not, a few basil leaves. 
INGREDIENTS
1 bean
300 g flour
75 g sugar
75 g butter at room temperature
3 eggs
Salt
1 pouch of baker's yeast
Orange or lemon zest 
2 tbsp. orange blossom water
200 g candied fruit
Apricot jam
3 tbsp. pearlized sugar
A few basil leaves to taste
PREPARATION
This recipe can be made with a bread maker or food processor, or by hand. 
In a bowl, combine  two whipped eggs with the butter, orange blossom water, orange zest, sugar and a pinch of salt, and then mix. 
Add the flour and yeast, and knead for about 10 minutes.
Let the dough rise at room temperature, covered with a cloth, for 60 minutes.
Once the dough has risen, knead it by hand to remove the air and make a long roll which you'll place in your savarin mould. Don't forget to add your bean! 
Let the dough rise in the mould for 45 to 60 minutes, and then pre-heat the oven to 350 °F.
Whip a whole egg with a pinch of salt and brush the cake. 
Put in the oven for 30 minutes at 350 °F.
Take the cake out of the oven, coat with apricot jam (put it in the microwave oven for 20 seconds with a little water so it's easier to apply) and decorate with candied fruit pieces, pearlized sugar and a few basil leaves.