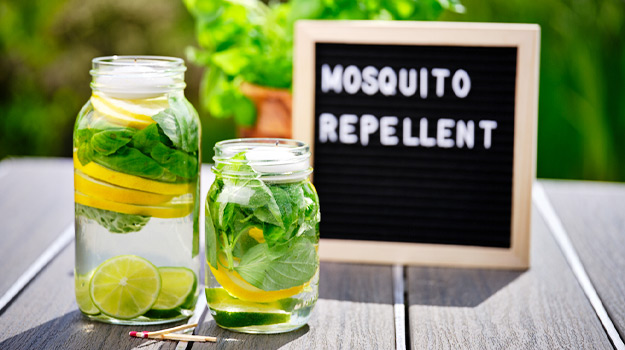 Tired of mosquitoes ruining your outdoor family meals? Use lemon, lime and basil to keep them at bay! Combine these ingredients to create mosquito repellant candles that will also look nice on your table. 
Here is what you'll need for this project: 
Materials
2 Mason jars
2 floating candles
2 lemons
10 drops of lemongrass essential oil
2 limes
A few fresh-cut basil sprigs
Water
Knife
Cutting board
Steps
Cut the lemons and limes in slices.
Add a few slices in the Mason jar.
Add drops of lemongrass essential oil. 
Add a few basil sprigs.
Fill the pot with water. Add enough so the candles' wicks stick out.
Add the floating candles.