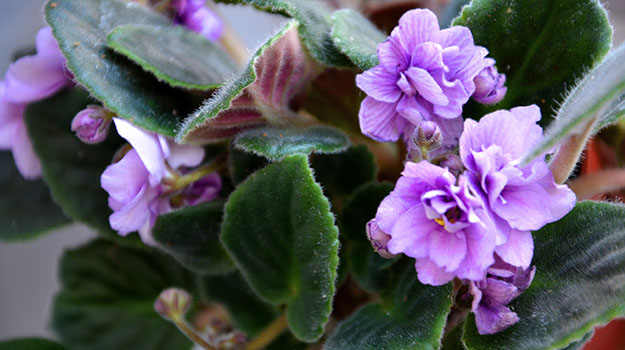 The ease of propagation, number of varieties and cultivars, and perennially blooming nature of African violets are just some of the reasons why they're the world's most popular house plant.
Main species
There are approximately 20 different African violet species. They can be either trailers or rosettes when it comes to mode of growth. The main species in cultivation are: 
Saintpaulia goetzeana

S. inconspicua

S. ionantha

S. pusilla

S. shumensis

S. teitensi
Watering tips
Avoid getting water on the leaves or the finely haired foliage will cause the plants to get water spots, wilt and look terrible. But why can't you get water on the leaves?
The actual problem is water temperature. If the water is colder or hotter than the foliage, damage called 'ring spot' can result. Water temperatures of 65 to 75 degrees Fahrenheit (18-23 C.) are deemed safe for most indoor African violet plants.
Overhead watering also decreases the life of the flowers, even with the optimum temperatures. In a nutshell, it is a good idea to avoid the plant when watering and direct the moisture to the soil. Watering through a system under the pot is useful but, occasionally, you should water from the top to leech excess salt from the soil that develops as a result of fertilizing.
How to propagate African violets
Its propagation is quite easy with leaf cuttings, allowing you to share these plants with others. Select large leaves of at least one inch in size. Trim the petiole or stem and insert it into a growing medium (such as peat, sand, vermiculite, or a combination of these). In about two weeks, the leaf will root and in 6 to 8 weeks, small plantlets emerge.
At this time, you can remove the mother leaf. Use a gentle diluted fertilizer once the mother leaf has been removed and keep the plantlet moist but not soggy. The new plant will be ready for transplant to its own pot in 14 to 16 weeks.
Before long you can pepper your home with these fuzzy darlings and drive your friends nuts with endless gifts of African violet babies!