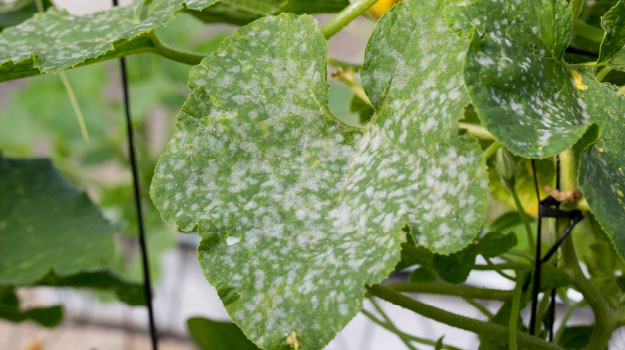 Powdery mildew is a disease gardeners know well as it affects several different species of annuals, perennials, trees and shrubs. It is caused by fungi which leave the foliage of affected plants covered with a white or grey powder whose texture is similar to flour's.
Those fungi can develop in any conditions, whether it's dry, humid, warm or cold. As soon as the first greyish-white molds appear, it is important to act immediately as the disease can spread very quickly to other surrounding plants.
Steps to follow
To control powdery mildew, spray your plants' foliage with a solution made up of 12 cups (3 L) of water and 1 tablespoon (15 ml) of baking soda, 2 to 3 times a week.
Organic, sulfur-based fungicides can also be very effective, especially on already affected vegetable plants.
Dilute the liquid or powdered sulfur and spray the plants' foliage. When temperatures exceed 28 °C (82 °F), this treatment is toxic. Below 15 °C (59 °F), use copper.
How to prevent powdery mildew
The following are measures that help prevent the development of powdery mildew:
Do not water your plants' foliage when the outdoor temperature is high.
Leave sufficient space between the plants.
Discard the affected parts, do not leave them on the ground.
Clean the center of your plants to avoid moisture build-up and stagnancy.