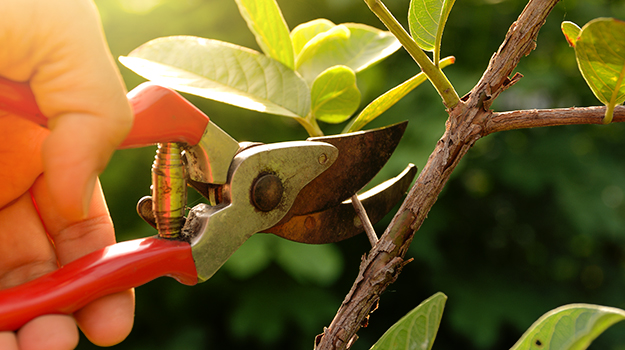 Pruning trees and shrubs isn't a lot of fun, but most gardeners accept it as a regular task that keeps trees and shrubs healthy and attractive.
Take your time, do the job right, and keep in mind that a rushed or inadequate pruning job may cause damage that lasts for years. Before you head out to the garden, here are a few tips that will help you succeed.
What to do:
First, use the right tools for the job. Pruning trees and shrubs requires good quality pruning shears and hand pruners, but you may also need hedge shears, hand saws, pole saws or lopping shears. For bigger jobs, a chainsaw is often necessary. However, not everybody has one or knows how to use that kind of tool properly. Don't hesitate to ask for help!
Keep your tools clean and sharp, as a dull cutting tool can tear plant tissues and introduce disease and pests. If disease is a concern, wipe tools with a disinfecting cloth between each cut, or dip the tool in a solution of 9 parts of water to 1 part of household bleach. Rubbing alcohol containing 70% isopropyl alcohol can also be used directly from the container.
Do your homework and know the proper time for pruning your particular trees and shrubs. Many trees and shrubs must be pruned before new growth appears in the spring. However, some are best pruned in late spring or early summer, while others may require pruning in the fall or early winter.
Wear the right clothes and personal safety equipment, including a long-sleeved shirt, long pants, quality work gloves and safety glasses. Depending on how big and dangerous the job is, a safety helmet could prove useful.
Also, make angled pruning cuts (about 45°) to prevent an unhealthy buildup of moisture.
What not to do:
Don't prune if it isn't needed, and don't prune excessively. Good reasons to prune trees and shrubs include dead, damaged or dying growth, unhealthy growth patterns such as crossing branches, or when pruning improves the health or appearance of the tree.
Don't remove more than 25% of a plant's foliage during a single growing season, even on young trees and shrubs.
Don't prune trees and shrubs the first year, unless you need to remove dead or broken branches. New plants already have to deal with a considerable amount of stress.
Don't take on a complex pruning job unless you know exactly what you're doing. Never prune trees located near power lines and never use a chainsaw on high spots that require a ladder. It is better to leave complicated or risky pruning jobs to the pros!