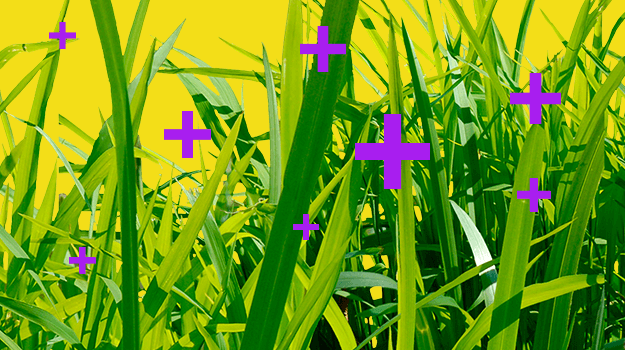 All PRO-MIX products3 contain the 100% natural MYCOACTIVE technology, which acts as a plant growth stimulant.
Better results, faster.
BETTER WATER AND NUTRIENT UPTAKE. The 100% natural plant growth stimulant MYCOACTIVE contributes to the good development of your lawn by facilitating the uptake of water and nutrients (especially phosphorus, copper, zinc and manganese). Your lawn develops better while being healthier.
VISIBLE RESULTS WITHIN 7 DAYS. Years of independent research have proven the effectiveness of the active ingredient MYCOACTIVE contained in PRO-MIX products. Grass seed enriched with this plant growth stimulant will give visible results after only 7 days.
2X FASTER. By using PRO-MIX products containing the plant growth stimulant MYCOACTIVE, your lawn will grow 2X faster and will be thicker, giving you the beautiful lush lawn you've always dreamed of.
MYCOACTIVE protects your lawn and keeps it healthy
HEALTHIER SOIL WITHOUT OVERWATERING. The MYCOACTIVE technology contained in the HEAL & FEED lawn fertilizer provides healthier soil without overwatering, as well as a better stress tolerance and stronger roots. All this with less maintenance.
NATURALLY REPELS PESTS. The active ingredient MYCOACTIVE also acts as a natural barrier against harmful insects and pests, and/or repels weeds and prevents their germination and growth.
It's 100% natural
SUPERIOR RESULTS. The MYCOACTIVE technology is inspired by nature and perfected by Premier Tech's 20 years of expertise in the field. It combines high performance active ingredients with specifically selected components to stimulate plant growth and produce superior results in an all-natural way.
OMRI CERTIFICATION. The entire line of organic PRO-MIX products containing the MYCOACTIVE technology is certified by OMRI Canada and meets all the requirements and standards of Canada Organic Regime.
Use our interactive map to find an authorized PRO-MIX retailer near you.
1 Compared to premium soil brands.
2 PREMIER TECH HOME & GARDEN INC. is committed to quality. If you are not completely satisfied with the performance of this product, we guarantee to refund its purchase price. Keep your cash receipt and email us.
3 With the exception of perlite, vermiculite and premium orchid mix.