This PRO-MIX ORGANIC-BASED GARDEN FERTILIZER MULTI-PURPOSE 20-8-8 dissolves quickly when mixed with water. Feeding while watering your plants provides fast nutrient uptake through the roots for better results.
Recommended for all indoor and outdoor plants including: flowers, fruits, vegetables, herbs, roses, trees, shrubs, lawns, vines, ground covers and houseplants.
*This soluble garden fertilizer is only available in Canada.
On a possible 10, shoppers rated this product: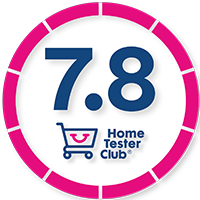 Home Tester Club is the world's biggest Grocery-Product Testing, Reviewing & Sharing Community.  An online community of shoppers, for shoppers and by shoppers. You can learn about new products, share your experience with and read honest reviews from your peers. https://hometesterclub.com/ca/en