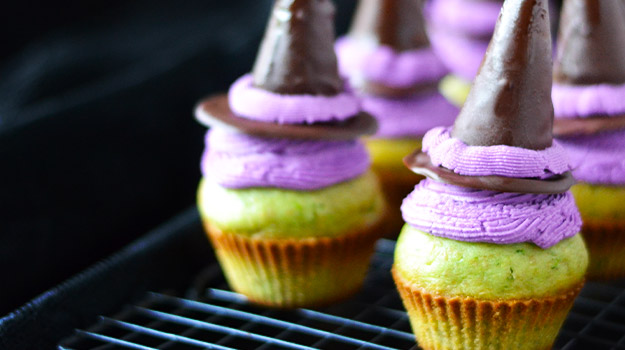 These cupcakes are a great way to enjoy eating healthy. Use your end-of-season squash supplies and let their green colour work their magic. 
---
Servings: 12 cupcakes
---
INGREDIENTS
Cupcakes
1 medium squash, finely grated
½ cup of sugar
¼ of vegetable oil
2 eggs
¼ cup of milk
1 cup of all purpose flour
1 cup of whole wheat flour
1 teaspoon of baking powder
1 teaspoon of baking soda
¼ teaspoon of salt
Witch hats
Mini ice cream cones
225 g of semi-sweet Baker's chocolate
Icing
3 cups of powdered sugar
½ cup of room temperature butter
Food colouring (colour of your choice)
1 teaspoon of vanilla
INSTRUCTIONS
Cupcakes
Pre-heat the oven to 375 °F, placing the grid in the middle. Place 12 muffin liners (paper or silicon) in a 12-muffin mold.
In a large bowl, mix the grated squash with the sugar, oil, eggs and milk. Add the flours, baking powder, baking soda and salt. Mix again to moisten all dry ingredients. 
Fill the 12-muffin mold. Cook for 25 minutes or until the cupcakes are ready. Let cool completely on a rack before decorating them. 
Witch hats
Cover a cookie sheet with parchment paper. 
Melt the chocolate using a double boiler and let cool for 5 minutes. 
Roll a mini cone in chocolate and place it on the cookie sheet. With a spoon, let a chocolate ring drip around the cone to complete the hat. 
Repeat for 12 cones, and then place in the refrigerator or freezer for 15 minutes so the chocolate solidifies. Leave aside. 
Icing
With a hand-held blender or stand mixer, mix the butter and powdered sugar. Add the vanilla and food colouring. 
Fill a pastry bag with icing and create a rosette on each cupcake. You can also add a ribbon on the witch hats. 
Place the witch hats on the cupcakes and serve.
TIPS
You can decorate the cupcakes differently, as you want.
They keep 3 days at room temperature and can be frozen. 
The whole wheat flour is optional and can be replaced with white flour.
You can add green food colouring to the muffin recipe to accentuate the colour. 
For a quicker version, use commercial icing.