---
Servings: 4
Preparation time: 5 minutes
Cooking time: 25 minutes
---
This recipe is perfect to enjoy the first spinach shoots of the season. It's also an easy camping meal idea as couscous is quick and simple to cook.
Choose whole wheat couscous over regular couscous to get three times the fibers without compromising the taste or texture of your favourite dishes.
INGREDIENTS
185 ml (3/4 c.) of dry green lentils
1 finely chopped onion
5 ml (1 tsp.) of olive oil
1 chopped garlic clove
227 g (1 punnet) of sliced white mushrooms
15 ml (1 tbsp.) of low-sodium soy sauce
250 ml (1 c.) of vegetable broth 
750 ml (3 c.) baby spinach (washed and dried)
250 ml (1 c.) of whole wheat couscous
Chives or green onions for service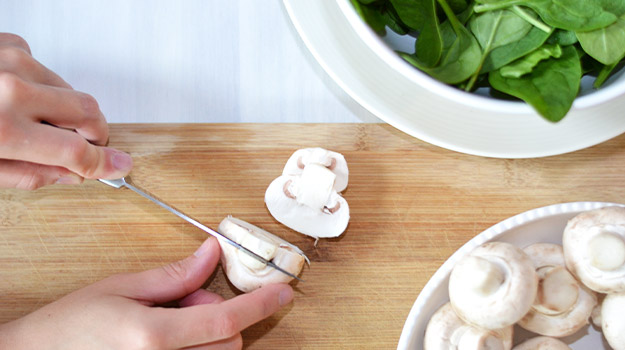 INSTRUCTIONS
Put the lentils (rinced and dried) in a medium pan filled with water. Bring the water to a boil, cover and leave to simmer over low heat for about 20 minutes, or until the lentils are well cooked. Rince the lentils with cold water, drain and leave aside.
In the meantime, in a large pan, brown the onion in a little oil. Add the garlic and sliced mushrooms, and keep cooking over high heat until the mushrooms are golden brown. 
Add the soy sauce, vegetable broth, spinach and cooked lentils. Bring to a boil, cover and leave to simmer over low heat for 4-5 minutes.
Add the dry couscous and remove pan from stove. Stir lightly and let stand for 5 minutes. 
Serve warm, and if you want, you can add finely chopped chives or green onions. 
Note: The cooking time can vary according to the size of the green lentils. You can also choose to use canned green lentils. 
This recipe contains all the ingredients for a balanced meal, that is, vegetables, a source of proteins and whole grains.
Zero waste tip:
Did you know you can easily prepare your own vegetable broth? Simply keep your vegetable scraps in an airtight container in the freezer. Carrots, onions, garlic, celery and peppers make excellent aromatics for a good broth. You can also add your favourite herbs, such as thyme or rosemary.
However, avoid using broccoli, cabbage and cauliflower as it would give your broth an unpleasant taste. When you have enough to make your broth, place it all in a pan and cover with water. Bring to a boil, and then reduce the heat and leave to simmer for about an hour.