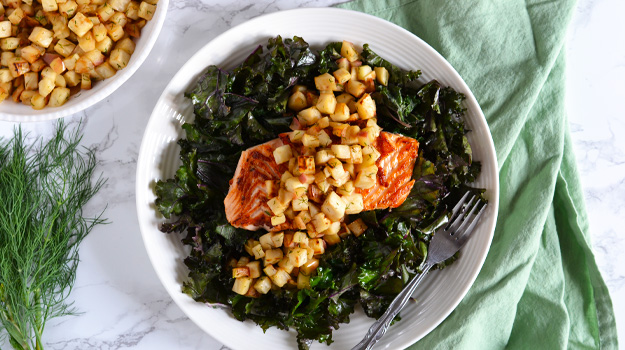 Little known, celery root is a versatile celery variety that can be eaten raw or cooked. It's an excellent source of vitamin K. Like apples, its flesh turns brown when exposed to air, so it must be prepared promptly. Celery root is great with grilled fish.
---
Servings: 2
Preparation time: 10 minutes
Cooking time: 10 minutes
---
INGREDIENTS
4-5 leaves of kale (cleaned, dried and chopped coarsely)
1 salmon fillet (approx. 250 g)
1 small celery root (or ½ a big one), peeled and diced
1 finely diced apple
15 ml (1 tablespoon) of butter
15 ml (1 tablespoon) of maple syrup
15 ml (1 tablespoon) of dill 
INSTRUCTIONS
In a salad dish, mix the coarsely chopped kale leaves with 1 tablespoon of extra virgin olive oil and 1 teaspoon of lemon juice. Leave to rest in the refrigerator for a few minutes (the kale will soften).
In a non-stick pan, cook the salmon fillet over medium heat for about 10 minutes, turning it over when half-cooked. You'll know it's ready when it easily breaks up in flakes.
In the meantime, in a large pan, brown the celery root in butter. 
Add the apples, maple syrup and dill, and keep cooking for 2 minutes. 
Serve right away and dress with dill if desired. 
Note: It's possible to replace dill with thyme. The taste will be completely different, but just as good. 
You can also replace celery root with kohlrabi, which has a sweeter, milder taste. 
Finally, you can use arugula instead of kale.