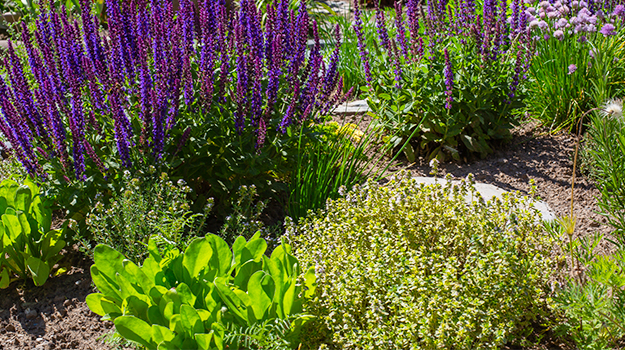 The idea of edible landscaping is to tuck in fruits and veggies amongst the rest of your landscape. Having an abundance of produce literally at your fingertips can save you big bucks on your grocery bill. 
What better way to save money than by planting perennial plants? Perennials keep on giving year after year, often paying for themselves during the first or second year of planting.
Add herbs to your landscape
Adding herbs to the landscape is a win/win. They will impart flavor to your dishes for years to come and many of them have blossoms that entice pollinators, which benefits all your other plants. 
Also, many herbs require very little fuss and even thrive in less than desirable conditions, making them perfect for almost any area provided they receive plenty of sun.
Little fruits
Don't stop with the herbs though. Try adding some healthy berries into the mix. Strawberries can be grown as border plants or used as ground cover. Raspberries and blackberries provide bountiful harvests for years, and don't forget the blueberries! 
Many other perennial plants can be tucked into the existing landscape as well. Rhubarb, asparagus and artichokes return reliably year after year and require very little care. Fruit trees provide shade as well as fruit, and are often available in dwarf cultivars for those with limited space. 
Grapes also work well growing over an arbor or fence. For even more variety, use edible perennial flowers, like daylilies and roses.
No chemicals
One thing to remember when growing any type of edible in the garden: do not use chemicals. Adding edible garden perennials into the existing landscape not only saves you money. 
In this era where many folks want to eat sustainable, organic produce, what could be better than walking out the back door and picking your own fresh fruits and veggies ready to be used the moment they are plucked from the tree or vine!