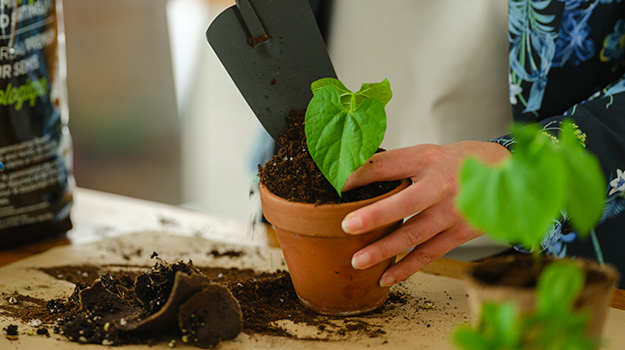 Alas, it's February. Cabin fever is setting in and you never know if late winter days will be sunny or snowy, or maybe a little of each. Take heart. February is a short month. The days are getting longer and spring is truly right around the corner. 
You'll feel better and more energized if you get outdoors as often as possible. You may be surprised how much you can accomplish.  
Complete your vegetable garden plan for this year and make sure it's all down on paper. A sketch will help. 
Plan a herb garden. If you don't have space, you can grow herbs in containers outside your kitchen door.
Finish catalog shopping and get those final orders in. Don't wait. If you have your heart set on the ideal plant; you may miss out. 
Feed conifers and blooming evergreens such as rhodies and azalea a fertilizer for acid-loving plants in mid- to late February. 
Resume fertilization for indoor plants, but take it easy at first. Start out every other week with a water soluble fertilizer mixed at half strength.
Start pruning trees and shrubs. (Wait until March if you live in a northern climate or a high elevation.)
Wander through your local garden center. You may pick up some great deals on pots, gloves or garden tools.
Don't stop feeding the birds. They will pay you back very soon by eating mosquitoes and other insect pests. 
Clean out old nests and scrub birdhouses and feeders. Paint them with a coat of nontoxic paint, if necessary.
Apply anti-desiccant spray to conifers and broadleaf evergreens such as rhododendrons, azalea, holly or boxwood. Anti-desiccant products provide a protective coating that prevents excessive water loss. 
Cut back ornamental grass to within a few inches of the ground before new growth appears.
Buy a couple of garden-related books and expand your horizon. For example, read up on identification of beneficial insects and how to attract them to your garden.
Start certain flower and vegetable seeds indoors in late February. Depending on your climate, you may be able to start lobelia, lobelia, petunia, vinca, ageratum, verbena, or slow-growing vegetables like cabbage, Brussels sprouts and broccoli. 
Scrub empty containers with hot water and a mild dish soap.