1. Sweet potato fries
Ingredients:
3-4 sweet potatoes, peeled and cut into wedges
1/3 cup olive oil
3 tbsp. lemon juice
salt, pepper and Greek potato spices, in sufficient quantity
Preparation:
In a bowl, mix all the ingredients. Place the sweet potato wedges on two well-oiled baking sheets.
Bake at 385 °F for about 45 minutes (depending on the power of your oven).
Leave to cool and enjoy.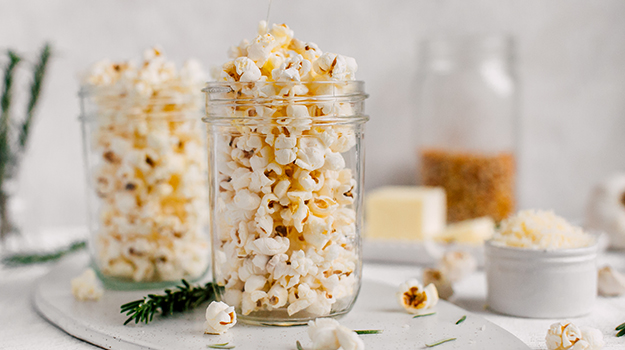 2. Popcorn with fresh rosemary and Parmesan cheese
Ingredients:
2 tablespoons vegetable oil
1/3 cup popcorn kernels
1/4 cup butter
1 tablespoon finely chopped fresh rosemary
1/2 cup grated Parmesan cheese
1/3 cup finely chopped fresh chives
salt and pepper
Preparation:
In a large saucepan, heat the oil over medium heat. Add the corn kernels. Cover, leaving space for the steam to escape. Cook, stirring the pan regularly, until the corn kernels pop.
Meanwhile, in a skillet, heat the butter and rosemary over medium heat until the butter is melted. Add salt and pepper to taste.
Place popcorn in a large bowl. Coat with flavoured butter. Add Parmesan cheese and chives.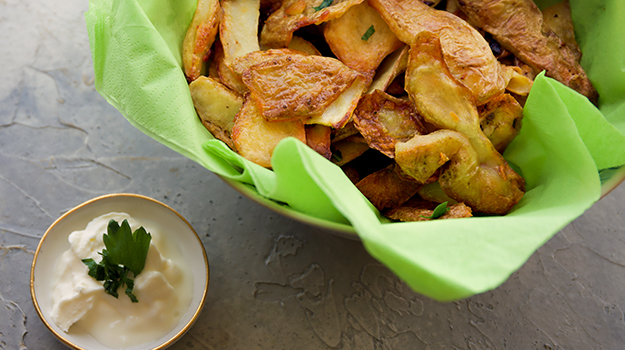 3. Spicy potato skins
Ingredients:
2 lb russet potatoes
2 tablespoons olive oil
1/2 teaspoon chili seasoning
1/2 teaspoon garlic powder
1/4 teaspoon onion powder
1/3 cup finely grated Parmesan cheese
1/2 cup plain Greek yogurt
2 tablespoons chopped chives
1 tablespoon chopped Italian parsley
2 teaspoons whole grain mustard
salt and pepper
Preparation:
Using a fork, prick the potatoes several times. Bake in pre-heated 350 °F oven for about 1 hour 15 minutes, until tender. Let cool. Cut the cooled potatoes into wedges lengthwise. Scoop flesh out of wedges, leaving a 1/4-inch (5 mm) thickness. Cut each potato skin into 3 pieces widthwise.
Place the potato skins, skin side down, on a baking sheet lined with parchment paper. In a bowl, using a whisk, combine the oil, chili powder, garlic powder and onion powder. Salt and pepper. Brush the potato skins with this mixture and sprinkle with Parmesan cheese. Roast in pre-heated 425 °F oven for 20 minutes or until potato skins are golden brown.
Meanwhile, in a bowl, combine the yogurt, half the chives, parsley and mustard. Top each potato skin with the mixture. Sprinkle with chives.

4. Warm cheese and squash dip 
Ingredients:
4 slices of bacon, chopped
2 cups grated butternut squash
2 tablespoons water
3 finely chopped green onions 
3 minced garlic cloves
2 tablespoons butter
2 tablespoons flour
2/3 cups milk
1/2 cup 35% cream
1 pinch Cayenne pepper
3/4 cups grated Gruyère cheese
2 tablespoons lemon juice
salt and pepper 
Preparation:
In a saucepan, cook bacon over medium heat, stirring occasionally, for 5 minutes or until lightly browned. Place bacon on a plate lined with paper towel and let drain.
Trim bacon fat from pan, retaining 2 teaspoons. Add squash and cook over medium heat for 5 minutes, stirring and adding water to prevent sticking. Add green onions and garlic, and cook for 1 minute or until softened. Remove the saucepan from the heat. Add the drained bacon and mix. Reserve the squash mixture in a bowl.
In the saucepan, melt the butter over medium heat. Add flour and cook, whisking for 1 minute. Add milk, cream and Cayenne pepper while whisking. Salt and pepper. Bring to a boil, whisking regularly. Reduce the heat and simmer, whisking, for 4 minutes or until the sauce has thickened enough. Add the reserved squash mixture, 1/2 cup of the Gruyère cheese and the lemon juice, and mix. Pour this mixture into a 2-cup baking dish and sprinkle with the rest of the Gruyère cheese.
Broil under pre-heated oven for 4 minutes. Let stand 5 minutes before serving.

5. Classic guacamole 
Ingredients:
3 ripe avocados, peeled and halved
2 tbsp. lime juice
1/4 cup cilantro leaves, chopped (optional)
1 green onion, finely chopped
Green Tabasco-type sauce, to taste 
Preparation:
Using a fork, in a bowl, mash the avocado flesh with the lime juice. Add remaining ingredients. Salt and pepper to taste and mix well.
Serve or cover and refrigerate until ready to enjoy!