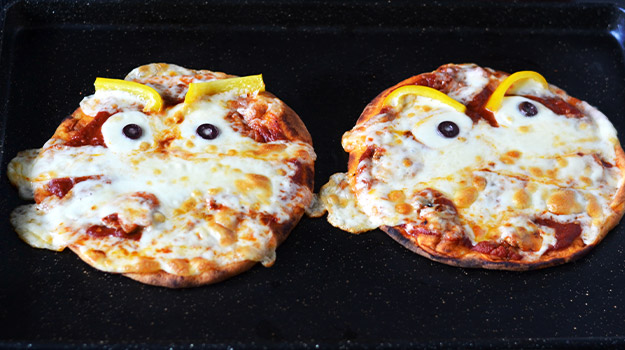 To make those, no need to grate cheese and everyone will be thrilled to create their own. It's a festive, balanced meal that's sure to be a great success!
---
Servings: 4 pizzas
Preparation time: 15 minutes
Cooking time: 20 minutes 
---
INGREDIENTS
Making the pizzas
4 naan breads
1 small block of sliced mozzarella cheese
1 sweet pepper (colour of your choice)
½ pack of mushrooms
2 large sliced bocconcinis 
1 tablespoon of sliced olives
Garden tomato sauce
1 tablespoon of olive oil
1 coarsely chopped onion 
4 large tomatoes (diced and drained)
2 large garlic cloves, finely chopped
1 teaspoon of sugar
½ teaspoon of salt
1 teaspoon of dried oregano
1 teaspoon of dried basil
2 bay leaves
Pepper if wanted
INSTRUCTIONS
In a medium pan, brown the onion and garlic in olive oil. Add the other pizza sauce ingredients and cover. Let simmer for 15 minutes, stirring once in a while. 
Remove from heat and purée using a blending attachment. Leave aside. 
In the meantime, pre-heat the oven to 375 °F. 
Prepare the pizza toppings and place the various ingredients at the centre of the table so they're easily accessible by all. Everyone makes their own mummy pizza: sliced bocconcini and olives as eyes, sweet peppers as eyebrows, a nose or a mouth, and cheese to mummify it all. 
Place the four pizzas on a large cooking plate and cook for about 10 minutes, or until the cheese has started to brown. 
TIPS
It is possible to use commercial pizza sauce or a can of diced tomatoes instead of tomatoes for a quicker version of the recipe.