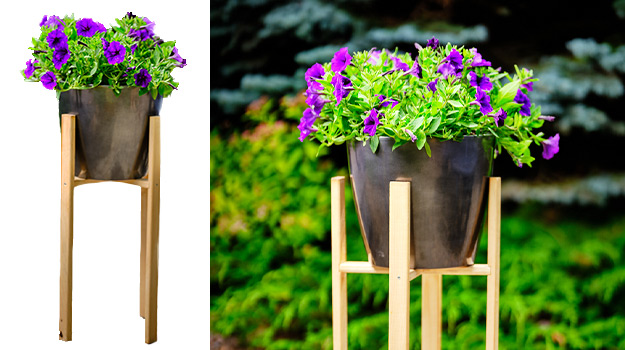 Add a beautiful element to your patio or interior by building your own plant stand for a small price. Modern and stylish, your plant is sure to like it!
Here is what you'll need for this project: 
Materials
Pieces of wood (4 smaller, 4 larger)
Screws
Screwdriver
Plant
PRO-MIX Potting Mix
Pot
Drill
Steps
Measure the diameter of your pot.
Cut two pieces of wood longer than the diameter of the pot, to make the cross bars. 
Measure the mid-height point of each length and make a notch in the pieces of wood so they fit together. The depth of the notch must be half the thickness of the piece of wood. 
Drill holes at the centre of the pieces of wood before screwing. Screw the cross bars to one another.
Cut four pieces of wood to the desired length.
Make a notch corresponding to the thickness of the cross bars in each piece of wood. 
Drill holes.  
Assemble and screw.