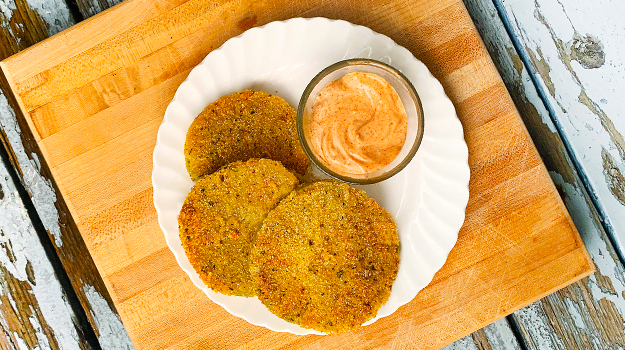 In 1991, the film Fried Green Tomatoes starring Kathy Bates was a real success at the box-office. However, it is not to the movie that the recipe owes its great popularity. Those who have visited the southern United States in season know that fried green tomatoes are iconic there, along with the famous peach cobbler and ribs.
Try the following recipe. You'll be glad your garden tomatoes haven't all had time to ripen!
How to cook fried green tomatoes
For 4 servings
3 firm, medium-sized green tomatoes
Salt
1 cup all-purpose flour (wheat flour will not give the same result)
1 tbsp. Cajun seasoning
1/2 cup buttermilk (the buttermilk can be replaced by the same quantity of milk, added with a spoonful of vinegar)
1 egg
1/3 cup unseasoned cornmeal
1/2 cup breadcrumbs
1/4 cup oil (or half and half oil and bacon grease)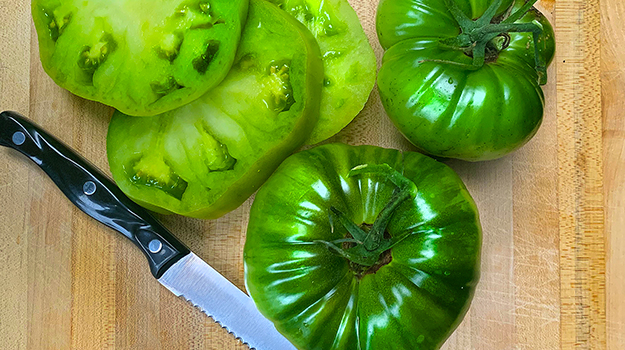 Cut the unpeeled tomatoes into slices 1/4 to 1/2 inch thick. Sprinkle them with salt or sugar (to remove the bitterness). Let stand for 5 minutes.
While the green tomato slices rest, arrange the breading ingredients in three shallow bowls. In the 1st bowl, mix the flour and the Cajun seasoning. In the 2nd bowl, whisk the buttermilk with the egg. In the 3rd bowl, mix the breadcrumbs and cornmeal.
Heat the oil in a skillet over medium heat. For an authentic taste, use a mixture of oil and bacon grease. A frying oil at 375 °F will allow you to obtain a crispy and golden breading.
Dip the tomato slices one by one in the seasoned flour, shaking to remove the excess. Then dip in the buttermilk mixture, then in the breadcrumbs to coat well.
In the skillet, fry half of the coated tomato slices for 3 to 5 minutes on each side or until golden brown.
Place the breaded tomatoes on a plate, on absorbent paper, and fry the other slices. Let drain and serve hot, with remoulade sauce. (You can also accompany the dish with a honey and mustard sauce or a chili sauce.)
How to make remoulade sauce
Remoulade may be a classic of French cuisine, but it is, however, the Louisiana version that most are familiar with. Perfect to accompany fried foods (including fries!), it can be prepared in less than 10 minutes!
1 1/4 cup mayonnaise
1/4 cup mustard (Creole mustard if possible)
1 tbsp. sweet paprika
1 tsp. Cajun or Creole seasoning to taste
2 tsp. prepared horseradish
1 tsp. pickle juice (liquid from jar of sweet or dill pickles, depending on your preference) or lemon juice
1 tbsp. hot sauce (preferably Tabasco)
1 large garlic clove, crushed
Combine all ingredients in a medium bowl. Some Cajun or Creole seasonings are saltier than others. Taste the sauce and, if desired, add a second teaspoon of seasoning. Prepare the remoulade a few hours in advance to allow the flavours to mingle.
The sauce can be kept in the refrigerator in an airtight container for two weeks if it was made with commercial mayonnaise, or three days with homemade mayonnaise.