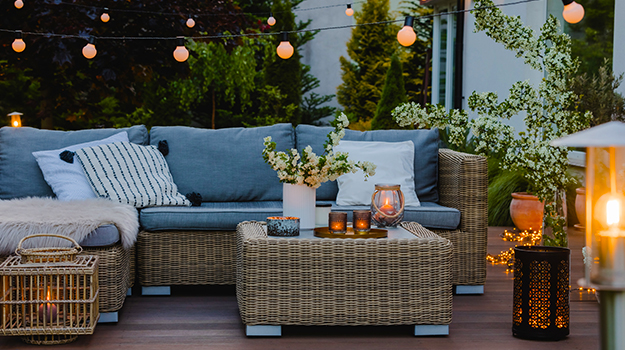 In regions where summer flies by, we want to make the most of the garden. Outdoor lighting allows us to extend and enjoy our space well into the evening.
We are easily impressed by the flamboyant lighting created by design professionals that we can find on Instagram and Pinterest. Understand, however, that it is possible to enjoy a warm nocturnal atmosphere and refined elegance on a very limited budget.
Big box stores, hardware stores and online stores are full of gardening items at good prices, and at mid-season, you can benefit from markdown sales. For those of you who don't want to spend or take inventory of what's hiding in the attic, basement and shed, you can try one of the many do-it-yourself projects available online to create illumination as attractive as store-bought originals. (See our suggestions below).
Consider different light sources to create magical effects: lanterns, candles, torches, electric garlands, Christmas lights... Shine the spotlight on the most beautiful plants in the garden, illuminate paths, living spaces, flower beds...
Here are 10 inspired ideas to brighten up the yard.
1. Rethink patio lighting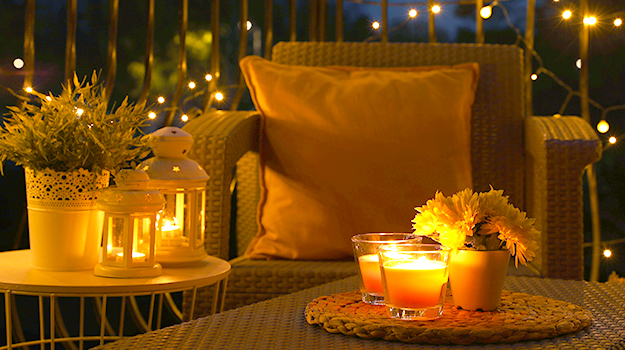 Whether you have a large patio or deck in the suburbs or a small balcony in the city, adding lighting will allow you to prolong the beautiful summer evenings.
For a soft and cozy atmosphere, look for subdued lighting. Combine kerosene lamps, candles, Chinese lanterns or glass vases containing luminous threads. This creates a beautiful effect in no time. You will be able to create the perfect atmosphere to enjoy the aperitif that continues late into the night.
For a welcoming touch, add some lighted garlands. Electric garlands with large bare bulbs are popular with their unrivaled industrial look. For a romantic style, use large paper lanterns that offer maximum effect at a low price. They are easy to store and since they are lightweight, they can be hung almost anywhere. (Solar or LED lights won't brown the paper!) Finally, for a festive atmosphere, bring out the Christmas lights!
2. Immortalize garden meals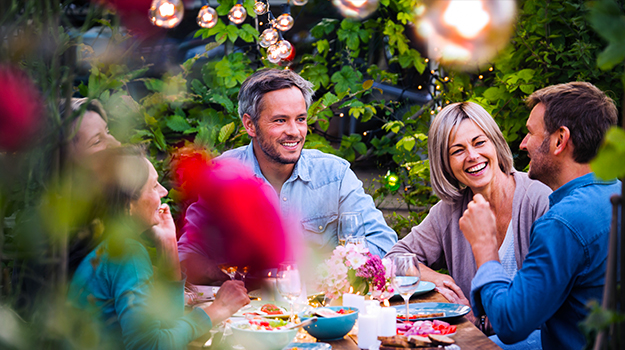 Outdoor dining is a summer must. Allow those meals to extend late into the night. Teenagers will be able to enjoy the open fire while the little ones will marvel at the spectacle of the fireflies.
Here are some suggestions for a beautiful table.
Hang garlands of vintage light bulbs with hanging bare bulbs above the table. Hanging from the trees or the pergola, they are crossed and intertwined to illuminate the dishes without overwhelming.
Add luminous threads to your bouquets of flowers from the garden to create sumptuous centrepieces.
Place floating candles on water in glasses, vases or jars.
Take out the antique candleholders; topped with a few candles, they will give the decor a magical side.
 
3. Light up your trees for a grand effect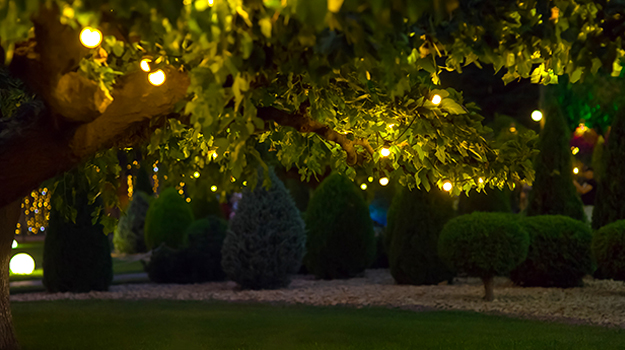 The lighting of trees, shrubs and groves accentuates the relief in the garden and gives depth to the decor. If different techniques can be used to obtain lighting that highlights the structural aspect of plants, the most popular is to place a flood lamp on the ground facing upwards. The light beam goes up along the tree to illuminate its branches from below. By making different attempts to obtain the desired effect, one can thus obtain poetic or dramatic lighting. It will be a beautiful effect even if the tree is still small, during both summer and winter.
Another technique is to place the light in the tree, directing the beam downwards, to simulate moonlight.
Finally, a simpler technique, but nevertheless interesting, consists in winding cords of light around the trunks of trees. The effect is impressive when the yard has several trees.
4. Consider solar lighting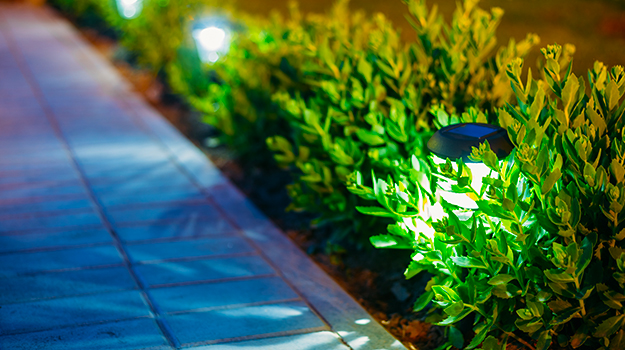 Solar lighting is a simple and inexpensive way to illuminate outdoor spaces. The options come in different forms to meet all needs: mark out the paths, enhance the landscaping, secure the swimming pool…
Ultra simple or wonderfully designed, there are models for all tastes and matching all styles. Without bulbs to change or electricity costs, they are rather economical. The lamps store the energy of the sun during the day to allow us to benefit from beautiful lighting in the evening. Some models are available with a timer or a remote control.
With models that are simply planted in the ground, you can create and recreate the landscape at will, whenever you want. We love the fact that we can move them around! The same set can indicate the way to the yard to guests when they arrive, and mark out the path to the fire pit later.
5. Do easy projects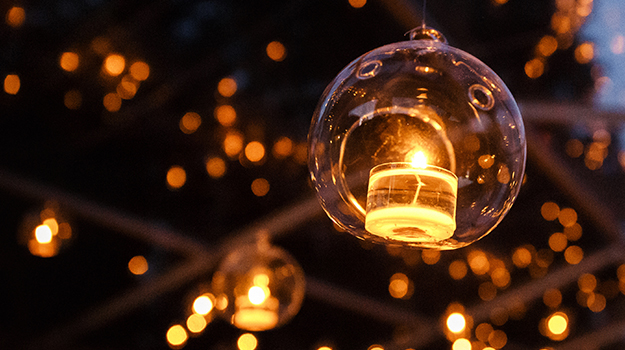 On the Net, there are many simple projects to make yourself to create beautiful lanterns from items you have on hand. Creating ambiance in the garden can be both simple and fun!
Here are some ideas to make on the go.
Arrange candles in Mason jars or different glass jars. Personalize your lanterns by placing sand, a few pebbles or shells on the bottom, or by gluing geometric shapes cut out of coloured tissue paper on the outside.
Use phosphorescent paint to paint pots and other objects exposed to sunlight during the day. At night, see the magic happen!
String paper lanterns on a long stake on which light cords are wound. In numbers, the effect is remarkable!
Recycle your wine bottles by inserting luminous threads. A chic and ecological decoration that will also be a sensation in winter inside the house.
6. Create a space for kids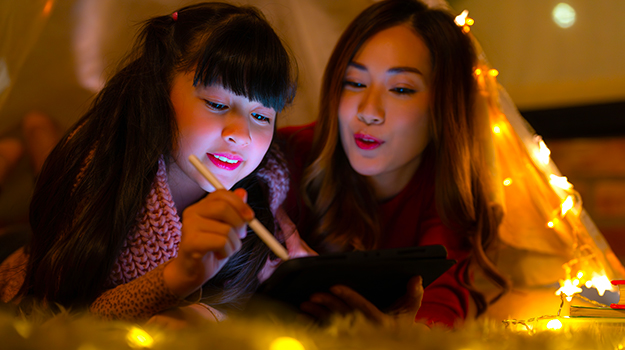 So that children can also enjoy the yard in the evening, light up what is specially intended for them. Arrange a few light garlands on a teepee or an improvised cabin. Your large tent will also make a sensational lighted playroom. As a campfire, stack a few logs in a large container. To simulate flames, add strings of sparkling mini lights!
When the board games run out, pull out a screen! All that's missing are a few cushions and some popcorn to enjoy an outdoor movie night! Pleasure guaranteed!
7. Set up a fire pit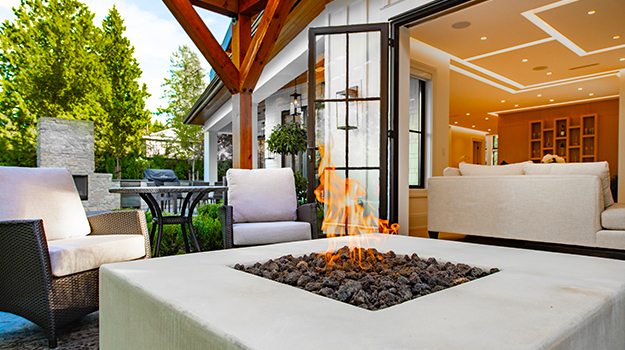 There's nothing better than a campfire to create an unparalleled atmosphere. Set up a space in the yard by arranging chairs around an outdoor fire pit.  You can buy a fire pit ring at most hardware stores. If you only have a small space, look for a raised fire pit, chimenea or even a propane fire pit for outdoor use. There are some for all budgets and it is also possible to make one from parts found at home.
8. Make a luminous sign using a light cord
Light cords allow you to create personalized illuminated signs. Strategically replacing neon signs, the flexible cord adopts different shapes to give rise to various pictograms or write personalized messages. A great idea to illuminate the spa area or the outdoor kitchen like hotels in tropical countries!
Make it yourself or order online!
9. Repel mosquitoes
Kill two birds with one stone by using citronella-scented candles that keep insects away or make these mosquito repellent candles in just a few minutes.
We also love lemongrass torches to give an exotic touch to the garden!
10. Create a magical ambiance with LED light curtains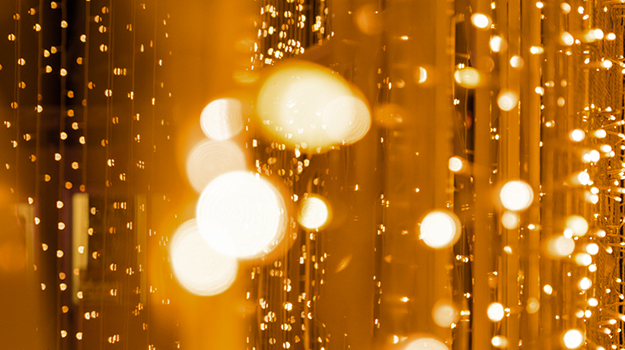 Long used in weddings, light curtains are making their way to the garden. No need for a special occasion to transform the yard since they allow you to create magical settings very quickly in very little time.
Try them around the pergola, above the table, to dress a wall or a fence, to divide the deck or patio… If one light curtain manages to enhance the decor on its own, imagine what many curtains can do!